Design Build Institute of America Florida Region News
Project Awards Call for Entries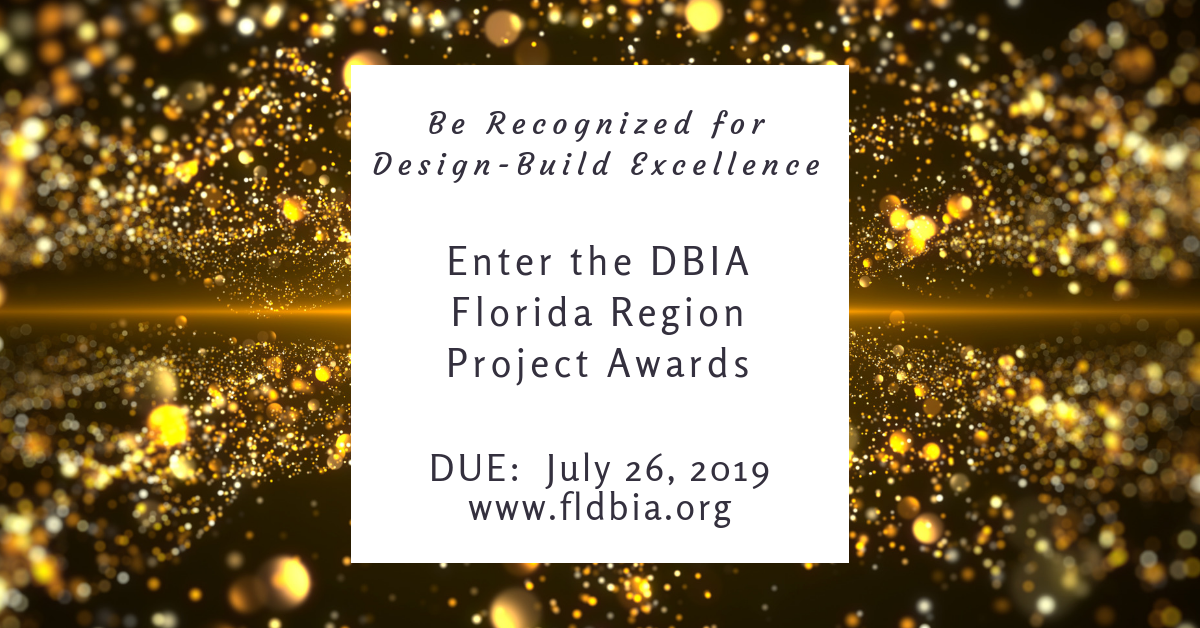 ENTRY DEADLINE EXTENDED!

DEADLINE FOR ENTRIES AUGUST 9, 2018 AUGUST 23, 2018

The Design-Build Institute of America (DBIA) Florida Region invites project team members to submit a successful design-build project(s) for the 2018 Florida Region Design-Build Project Awards competition. Completed entries and entry fee payments must arrive at the DBIA Florida Region no later than August 23, 2018.
The acceptance of single-entity risk is the defining feature of design-build project delivery, and winning submissions must be carried out under a DBIA or other single-responsibility contract. Only projects completed on time, on budget and without litigation will be considered for an award. Projects are honored for design and construction that meets or exceeds owner expectations.
To be considered for a DBIA Florida Region Project Award, projects must demonstrate the successful application of design-build best practices as defined by the DBIA Design-Build Manual of Practice. These include: early integration of key team members during the proposal process via a proposal charrette or other collaborative outreach effort and close coordination between design and construction team members from the design development stage through final construction.
A panel of impartial expert judges, drawn from the DBIA region membership, project owners, and the industry in general will judge the submissions. The panel of judges determine the winner of the Florida Regional Design-Build Award, if any, in each category. At the discretion of the judges, additional awards may be presented to submissions in each of the categories. The panel of judges may choose not to name a winner for any specific category/award based upon submissions. The Best Overall project will be chosen from the pool of highest-scoring projects from all categories.
DBIA and DBIA Florida Region reserve the right to publish any and all entry materials submitted or any part thereof without compensation. This includes photographs and names of any and all entrants and projects submitted to the awards competition. DBIA shall not be responsible for returning submitted award candidate submissions.
Awards will be presented during the 2018 DBIA Florida Region Annual Conference in St. Petersburg, FL on October 4, 2018.

DOWNLOAD CRITERIA PACKAGE

Not sure if your company is an industry partner member? Check Here